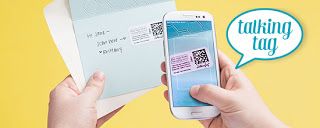 Talking tag is a new fun product that Stampin up has come up with, it makes a project personalised to you. Its an easy way to record a message for your recipient and combines well with your cards or scrapbook pages.
You download the
free
TalkingTag™ App on your smartphone from talkingtag.mobi, iTunes® or Google Play™.
Stick the message tag to your card or gift.
Open TalkingTag™ App and scan the code.
Record your message.
To play the message, recipients need to download the app and scan the code.
Once you have downloaded the App you can purchase the message labels from me in sheets of 10 for £7.25.
Just email me at mycraftypottingshed@gmail.com